Language courses abroad
with Skrivanek language school
Combine the pleasant with the useful – learn both the language and the culture and make yourself at home wherever you are.

Do you want to have an adventure of your life and to develop your language skills at the same time? Check out our propositions of language courses abroad! During such a trip, you not only will learn a foreign language, but also gain an indispensable in social contacts self-confidence, find out new things about a country, its traditions and customs. You will know inspirational people and make new friends. Language trips are the best way to learn a foreign language. Thus check out our offer now and plan the best trip in your life.
airport transfer costs
attractive insurance
together we will choose a suitable location
stay wherever you feel the most comfortable (in a hotel, with a family, in rental facilities)
together we will choose additional attractions outside the training
In our offer you will find:
1
BUSINESS AND INDIVIDUAL COURSES
COURSES FOR COMPANIES AND CORPORATIONS
INTENSIVE COURSES
CULTURAL COURSES
Our offer concerns not only holiday language courses abroad. We provide specialist language courses in the most spectacular locations, together with accommodation and a remarkably interesting cultural offer. You don't have to worry that you won't succeed abroad with your current language skills. We will conduct a detailed test of your language knowledge and offer language trips adjusted to your competences. Check our offer and develop your language skills abroad.
Our offer includes courses in:
London
Munich
Riga
Canterbury
Berlin
Prague
Zurich
Vienna
Hamburg
Malta
Dusseldorf
Malaga
Barcelona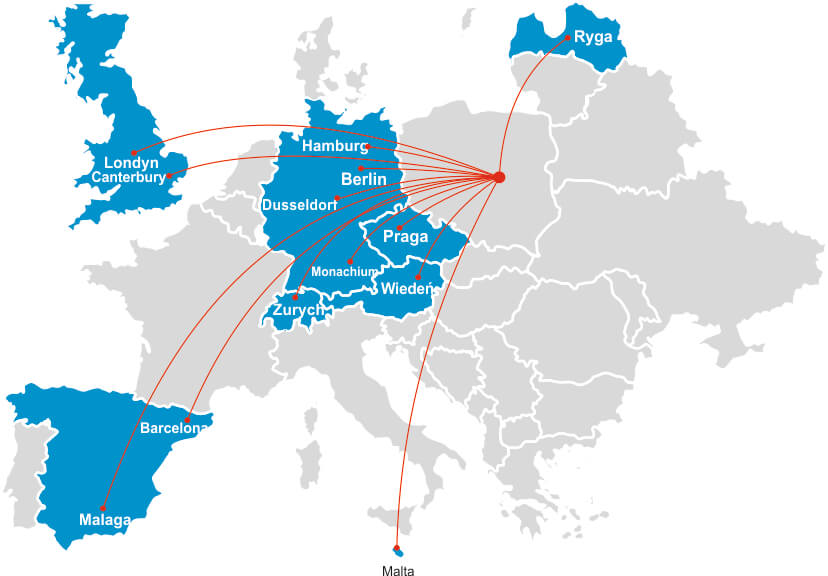 We offer participation in away courses:
combined with learning a general, business and specialist language
in attractive resorts
with a possibility to rest and learn for your family members
with a rich cultural offer including trips, sport events, parties and lots of other amusements
If you haven't found a language or a country which interests you, don't waste your time to search on your own. Contact us!
We will organise an abroad course adjusted to your needs. With us you will gain new language skills very fast!