Find out how we teach!
Learn more about our method


EFFECTO ensures the maximum efficiency of foreign language training. Effective, inspiring, fun and innovative, it actively engages both the learners and teachers in the training process.
EFFECTO combines five fundamental components: activity, inspiration, fun, individual approach and the guarantee of effectiveness to allow learners to achieve their objectives and improve their language skills.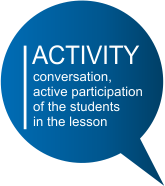 Revision. Regular and frequent revisions are a key to success! In our courses, students revise new language in different contexts by completing diverse exercises and by using it in role-plays and dialogues that revolve around everyday life and business situations.o.
Listening. We make sure that our students listen to material as much as possible from early on to get accustomed to the melody, tone and accent of the target language, learn proper pronunciation and overcome their speaking anxiety faster.
Focus. The clear instructions from teachers, recurring lesson components (e.g. warm-up, group-building and calm-down exercises), and varied difficulty and dynamics of exercises improve the focus of learners during classes.
Interaction. The active involvement of students brings tangible results. This is why our classes never get boring. Students work individually, in pairs or in groups, play roles, have discussions and work with one another, for instance during brainstorming exercises or by correcting their errors.
Conversations. The best way to learn a language is to speak it, so we view speaking as a particularly important skill. Students start using new vocabulary and grammar in practice right away, which makes it easier for them to communicate with foreigners at work and in everyday situations.
Analysis. The EFFECTO method involves techniques that require independent and creative thinking during classes. Rather than offering final answers, the teacher puts students on the right track by asking open questions, soliciting possible solutions and giving hints. This way students retain the learned material for longer.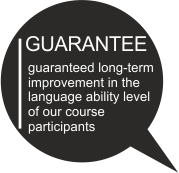 Learning progress. We regularly monitor and assess students' progress based on the programme contents and the results of progress tests (including periodic, semester and final tests). The teacher provides detailed feedback, so students have full control over their progress and can verify their new language skills as they learn. This, in turn, improves their motivation and the effectiveness of the training process.
Satisfaction. Being able to speak a foreign language gives satisfaction both to our students and teachers. The more our students know and can express, the more satisfaction they get when they finally put this knowledge into practice. We make sure they are genuinely satisfied with their own achievements and keep them motivated to keep learning.
Success. The successes of our students are our successes, and we reward them with certificates to confirm their language proficiency level. We also prepare them for international language exams acknowledged by employers, trade and financial organisations, and universities in Poland and across the world.
Knowledge. Learning a foreign language is mainly about improving language skills, such as listening comprehension, speaking, reading comprehension and writing. Knowing the language and its grammar alone is not enough for effortless communication. This is why we focus on putting new knowledge to practice in our classes.
Effectiveness. With the right teaching programme and clear lesson structure, we can guarantee an effective and uniform teaching process, which guarantees successful progress. With us, learning a foreign language is efficient and the results tangible.
Lasting effects. Our EFFECTO method is result-oriented and involves effective teaching techniques to ensure long-term improvement of language skills.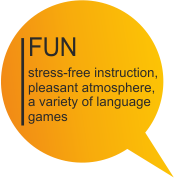 Media. Thanks to the use of diverse media in our classes, such as the press, radio, television and internet, as well as audio recordings, advertisements, music videos, books and films, we provide our students with genuine experience of the target language. This makes the learning process natural and enjoyable.
Video. We use fragments of foreign films, YouTube videos and television programmes to make our classes more interesting while providing students with an opportunity to listen to a variety of spoken language forms.
Music. Listening to and singing foreign language songs combined with the background music played during other language exercises improve the students' motivation during classes. The relaxing atmosphere makes it easier to memorise vocabulary and popular phrases.
Creativity. We keep our classes creative, effective and compelling by designing in-house teaching programmes, taking on ingenious teachers, introducing innovative solutions, and using a variety of teaching materials, resources and techniques.
Comfort. Thanks to the small groups (from 4 to 8 people), comfortable training rooms, flexible class schedule, learning resources accessible in a virtual school office and individual approach to every student, learning in our school is a pleasure and every student feels at ease.
Modern technology. Technology and online resources are now ubiquitous for learning foreign languages. In our courses we use the innovative Rosetta Stone® Advantage e-learning platform, social media, and a variety of web and mobile apps. A virtual school office is also available to course participants. We offer remote teaching in virtual classes and by Skype. Such solutions save the time and increase the comfort of students while also offering alternative to traditional language learning.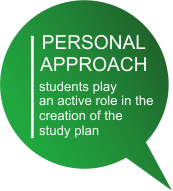 In-depth learning. We effectively motivate our students to explore new knowledge. Our teachers don't just present the course contents: they also support the whole learning process by encouraging students to find information, solve problems, and present and defend their own reflections. This stimulates the creative potential of each individual.
Exercises. Practice makes perfect, so our students practice new vocabulary and grammar structures in various contexts, especially in communication, for instance by doing role-play exercises inspired by real-life situations. Learning at our school is not limited to theory: it's practical and useful.
Individual approach. Our didactic methods focus on the student, so our teachers pay 100% attention to students' needs. Students can participate in selecting the course topics that reflect their own needs and expectations. In class, the teacher pays attention to each student individually, which makes learning significantly more effective.
Diversified topics.  In designing our programmes, we take into account recommendations from the Council of Europe, but we also choose topics based on their usefulness for actual life and work situations, and the individual interests of course participants. We make sure they expand both general vocabulary and phrases, and the vocabulary associated with their profession.
Support. We offer support at every stage of language training. This includes setting specific and realistic learning goals, adapting the programme to the needs and capabilities of students, providing appropriate didactic resources, and ensuring that our methodology specialist and experienced teachers assist students with realising their goals.
Balance. We keep balance between revising previous knowledge and introducing new content, between theory and practice, between the speaking time of the teacher and the student, and between working on each language skill. To make this possible, we use the course book as the starting point, but also introduce in-house didactic resources to address the specific needs of groups or individuals.