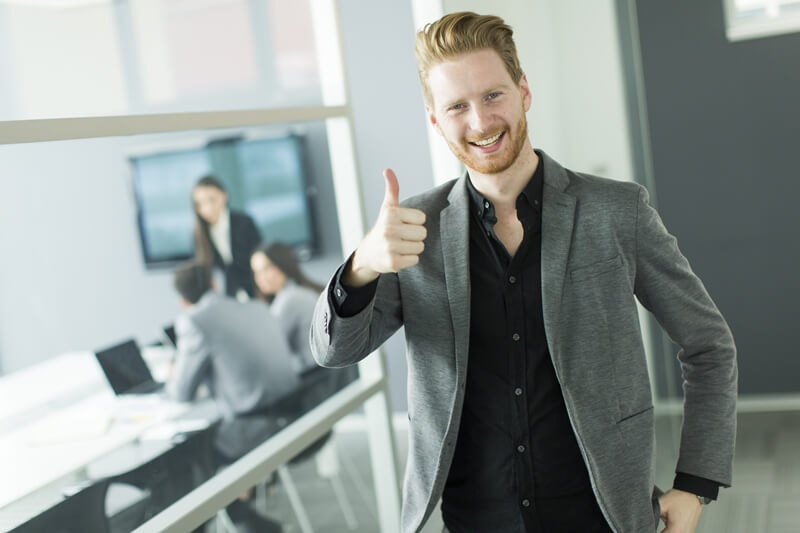 Szlifuj swój język angielski, ćwicząc na regularnie publikowanych lekcjach business English!
The topic for today is "praising and recognizing on the job".
Task 1
Read the text below to get the general idea:
Kim Harrison, a manager, a lecturer, a writer and a PR consultant in one, defines 'employee recognition' as timely, formal or informal acknowledgement of a person's behaviour, effort or business result that supports the organization's goals and values, and which has clearly been beyond normal expectations. He also believes that appreciation is one of the fundamental human needs which is very powerful, but unfortunately undervalued as a management technique. It seems that employees are very rarely recognized for a job well done by their immediate supervisors. More than 58 % of them claim that they have never received any praise from their managers, although being valued is listed as a vital part of building productivity and boosting workplace morale in an organization. Moreover, it is said that recognition on the job increases motivation among the staff and helps to retain people within a company. Experts also claim that employees who are praised for their work on a day-to-day basis tend to receive higher scores from customers and are more willing to take on new responsibilities. In addition, psychologists emphasize, those who receive positive feedback on regularly are more productive, effective and healthier than those who lack such uplifts.
Japanese studies have recently revealed an interesting relation between work recognition and bonuses. They indicate that offering praise can be as effective as receiving a financial reward by an employee. Scientists have also discovered that being paid a compliment activates the same part of our brain as receiving cash. So it means, that being valued at work might have a similar effect to being awarded a 1 % pay rise, but in fact it costs nothing but a few sincere words.
There are, however, two aspects to employee recognition: the first one is to actually see an opportunity to praise someone, and the second is the act of doing so. Unfortunately, most managers are more likely to focus on employees' failures rather than on their successes. What a shame!
Task 2
Study the text carefully and read the sentences below. Find the incorrect statements in relation to the text:
1. Employee recognition means praising workers on the job. ……
2. Positive feedback decreases self-esteem and boosts revenue. ……
3. Employees are hardly ever valued by their managers. ……
4. Being praised infrequently might increase workplace morale. ……
5. Workers experiencing regular uplifts tend to be more efficient than those who don't. ……
6. Work recognition is less effective than financial rewards. ……
7. A compliment at work should go along with a pay-rise. ……
8. Recognizing on the job helps companies keep employees within the organization. ……
9. The way in which the praise is delivered is insignificant. ……
10. The importance of employee recognition still remains underestimated by managers. ……
Task 3
Watch the video How to give… and put the sentences below in the order they appear in the video:
a) The four-step-praise model is a very effective way of giving praise. ……
b) Who benefited from their behaviour? The colleague, the customer or the business? ……
c) What was it? Identify what the situation was. ……
d) You need to refer to the specific situation and the context. ……
e) What is that they actually did? Praise the specific behavior or initiative. ……
f) When was it? ……
g) Shake hands and say 'thank you'. ……
h) Who was it with? ……
i) Saying just 'good job' is not enough. ……
j) What is the effect or the result of their action? What impact did it have? ……
Task 2
1. C
2. IC
3. C
4. IC
5. C
6. IC
7. IC
8. C
9. IC
10. C
Task 3
1. a
2. d
3. f
4. c
5. h
6. e
7. i
8. b
9. j
10. g